Uniforms
Columbia International College has a uniform policy that aligns with our prestigious program, academic standards and school identity.
Our CIC uniform identifies us as a community that takes pride in our school culture.  Our uniform policy increases school safety, minimizes disruptions, easily identifies trespassers on CIC premises, and promotes improvement in student behaviour and decorum.
School Uniform Policy
Students must be dressed in appropriate uniform attire at all times while on the school premises. This includes the hallways, cafeterias, classrooms, and while travelling to and from school
All uniform items worn must be clean and well-maintained. Any student wearing a uniform item that does not meet the standard of the uniform policy will be required to comply to CIC standards
The final determination as to whether any item of a student's uniform is acceptable remains in the sole discretion of the Principal or Vice Principal or his or her designate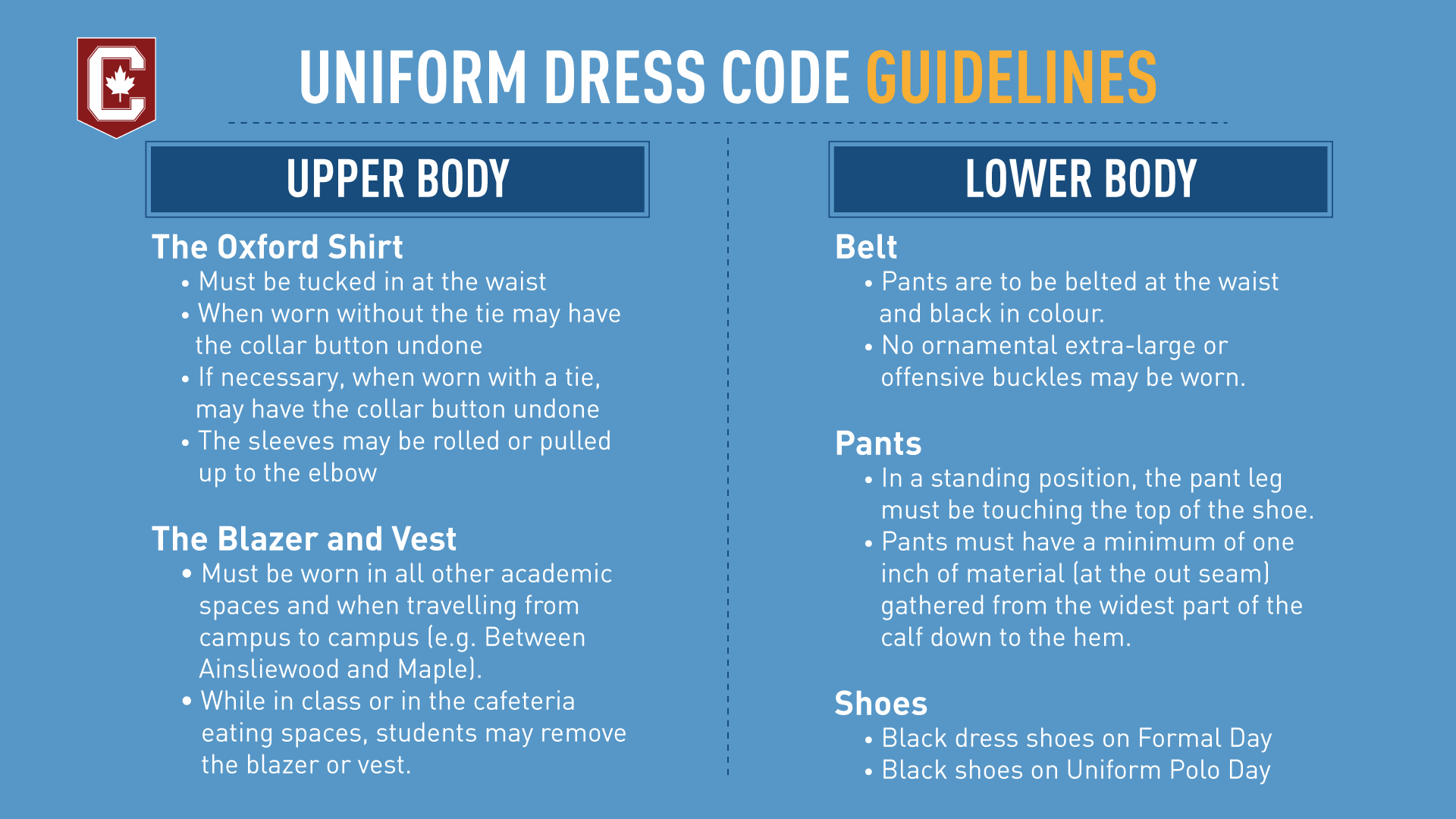 Consequences for Breach of Policy
Any student who disregards the Uniform Policy will be issued a uniform violation.
Any student not in proper formal uniform will be required to go to the Campus Store and change into a loaned blazer or vest, dress shirt, tie, and dress pants and will pay a C$50 (per day/per item) fine for handling and cleaning.
Students in breach of this policy will be subject to monetary penalties, specifically:
If a student misses the school bus from residence to school, as a result of a failure to comply with the school uniform policy, the cost of alternative transportation (YAA – taxi) will be the responsibility of the student
ACTS 1 as set out in Article 16 of the Code of Conduct and a penalty of fifty dollars CAD ($50) (per day/per item)  for a first offence of this policy
ACTS 2 as set out in Article 16 of the Code of Conduct and a fifty dollar CAD ($50) (per day/per item)  penalty for a second offence of this policy
ACTS 3 as set out in Article 16 of the Code of Conduct and a fifty dollar CAD ($50) (per day/per item)  fine for a third offence of this policy
and ACTS 4/5 hearing as set out in Article 16 of the Code of Conduct and a fifty dollar CAD ($50) (per day/per item) penalty for a fourth offence of this policy