Food Service
CIC's Total Care Living ® helps our students to focus on their studies by removing the pressures for meal preparations that students would face when they study away from home. Living on campus is a great way for students to immerse themselves in student life. The meal service and dining facilities gives them the time and space to socialize and build lifelong friendships.
Columbia International College is proudly partnered with world renowned Chartwells to provide students with delicious and nutritious meals needed to maintain a balanced diet.
---
Chartwells
Together Chartwells and CIC are working in collaboration to provide the safest and most efficient food service offerings. The safety of the CIC Community is at the forefront of all the decisions made within our cafeterias. For any inquiries related to food service or dietary restrictions please contact our management team.
You can also find contact details of your residence Food Service Supervisor/Manager in the cafeteria.
Follow us on Instagram @diningatcic so you'll never miss an update from us!
---

Chartwells Meal Schedule
MONDAY – FRIDAY
Breakfast: 7:15am – 8:30am
Lunch: 11:30pm – 1:30pm
Dinner: 5:00pm – 6:30pm
Late night snacks: 8:3opm – 9:15pm
SATURDAY – SUNDAY and Non-School Days
Brunch: 11:00am – 12:45pm
Late afternoon snacks: 3:00pm – 4:00pm
Dinner: 5:00pm – 6:30pm
Late night snacks: 8:3opm – 9:15pm
---
Convenient ID Card to access your meals
With one swipe of your Student ID Card, students are able to enter the dining areas and enjoy the meals. There is no need to carry cash and it is a great convenience for all students! All Students must have their ID cards with them to access Food Services
---
Large Varieties of meals for everyone
Our Executive Chef creates a variety of food to meet the different needs of our students. With over 80 different types of meals : soup, main entrees and desserts – there is always a variety of food options to ensure that students always have a desired choice. Accommodations of special dietary needs are made available to students.
DIFFERENT FOOD USED :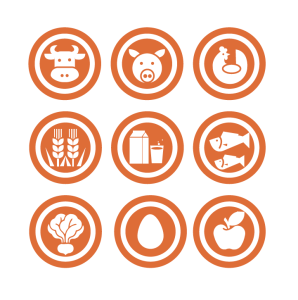 Beef, Pork, Chicken, and Seafood
Whole grains such as rice, oats and whole wheat
Salad bar with an array of fresh vegetables, toppings and dressings
Daily seasonal fresh fruits
Eggs and low-fat dairy including milk, yogurt and cheese
Use of trans-fat free oils to prepare meals
Sweeteners, honey, brown sugar made available at meal times
The use of spices and seasoning from different regions are used to create a variety of culturally specific dishes
---
Food Allergies
Chartwells and CIC staff will work with parents, students, doctors and school nurses to help manage students' food allergies. We work to mitigate risk by:
Working closely with the Executive Chef and his team to provide dietary substitutions
Providing alternatives to ensure students are fed safely
Labelling the ingredients at the time of serving so as to alert the students of possible allergens
Menu and their ingredients are available online on

www.

dineoncampus.ca/CIC
---
Special Dietary Needs
At CIC the dietary options include:
Gluten-Free
Lactose intolerant
Medical e.g. Diabetic
Vegetarian
Vegan
Halal
---
Special Dietary Form to complete before you depart
If you are fasting during the month of Ramadan and would like our Ramadan Special Service made available to you, please connect with your Residence Front Desk.
For Additional Support Please Contact: sumit.nair@compass-canada.com