Self-Isolation in Residence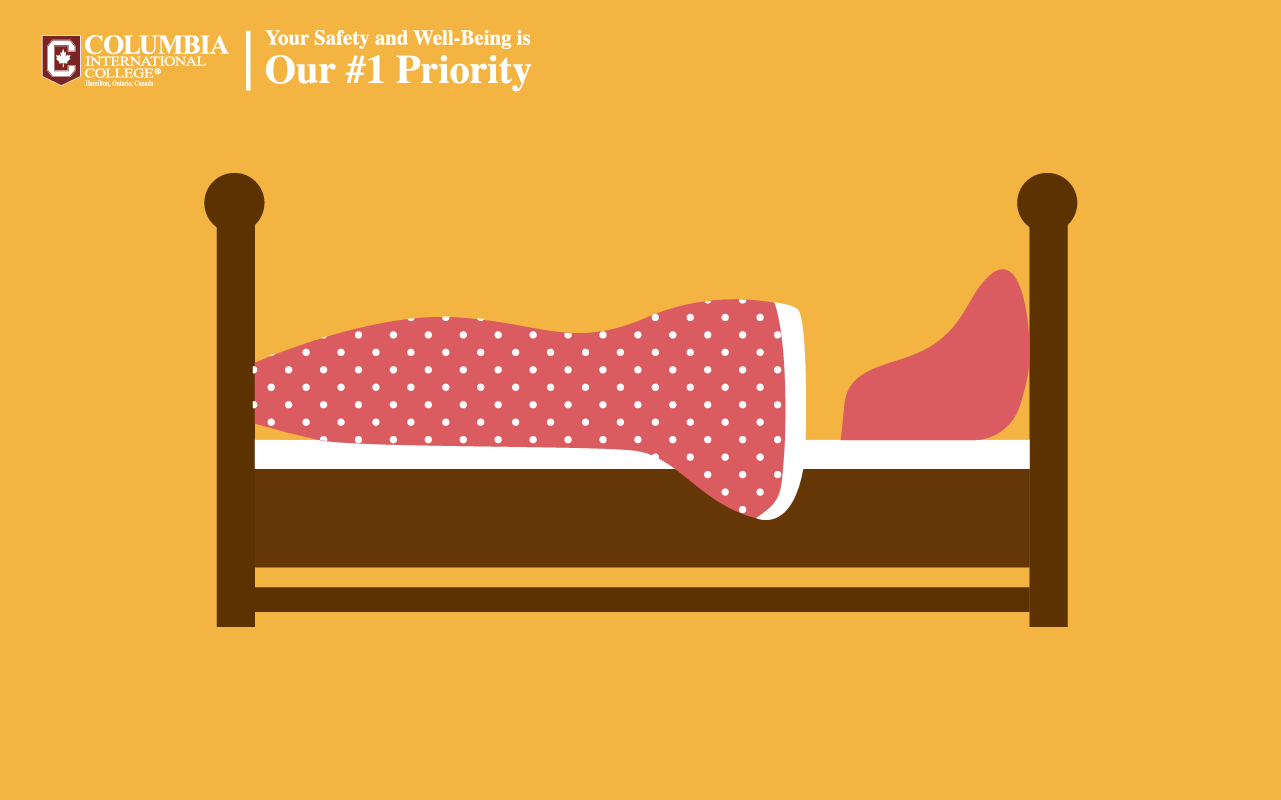 Self-Isolation Overview
Due to the current COVID-19 pandemic, particularly given the new COVID-19 variants in Canada and around the world, you must follow testing and self-isolation requirements. For students who are not vaccinated, you are required to conduct self-isolation for a duration of 7 days to ensure the safety of all CIC students and staff. At least one COVID-19 test will be administered by CIC medical staff during your self-insolation period. The first doze of COVID-19 vaccination will be also scheduled. You will receive remote learning access during your self-isolation period. At the end of your self-isolation period, once you are cleared by one of our medical staff, you will move to your assigned room and begin in-person learning on the next day of your classes.
Your room will have a bed with bed sheets, a comforter, a pillow, and private washroom and shower. At the end of your self-isolation period, and once you are cleared by one of our Medical staff, you will move to your assigned room.
We have dedicated Residence Staff (house parents) 24/7 who want to ensure your stay in self-isolation is comfortable. If you have any questions or concerns, please reach out to house parents at the front desk of your residence.
Tips!
You will get access to school Wi-Fi when you check in at the Front desk. Once you settle into your room, call your parents to let them know you arrived safely.
Please bring adequate clothing (e.g. indoor clothes, under-wears, pajamas, etc.) for the 7-day self-isolation, you'll be able to access laundry services once you're released from self-isolation.
---
Self-Isolation Residence Contact Information
Pine Girls Residence (PG)
Address: 768 Sanatorium Road, Hamilton, Ontario, Canada, L9C 0C5
Front Desk Number: +1-905-572-7883 ext. 6666
Cell/Mobile Number: +1-905-961-4068
You can also contact residence staff by emailing: Residence.Life@cic-totalcare.com
---
Phone Access
To dial a local number, Dial 9 first and then the phone number. For example, to dial the school number, dial 9-905-572-7883.
SIM cards are available at residence and can be activated via the internet with a credit card. Please call the Front Desk if you would like to get a SIM card or need help activating one. Once you register for a plan, the SIM card will give you:

Canadian phone number
Data plan
Unlimited Canada wide calling
Unlimited Canada wide messaging

Calling cards for international calls are also available at the residence. If you would like to obtain one, or need help using it, please reach out to the Residence staff.
---
Below is some information to help you during your stay in self-isolation.
Self-Isolation Safety
For your own safety and the safety of other students and staff, you must stay in your room. There are no exceptions to this rule of self-isolation.
Please wear a mask when you open the door to collect meals or other items delivered by residence staff. You should not open your door for any other reason.
No smoking is allowed in Residence. If you are of legal smoking age (19 years old) and if you have any smoking products on you, please give them to the residence staff. We will store them in your mailbox. Some smoking products are: cigarettes, lighters, etc.
No cooking is allowed in the Residence room. Kettles with automatic shut-offs are allowed.
---
Developing COVID-19 Symptoms or Feeling Unwell
Contact the front desk immediately if you aren't feeling well. Houseparents are here 24 hours a day, 7 days per week and can be reached at:
As always, please feel free to call the front desk if you have any questions or are in need of anything. 
---
Fire Alarm
In the unlikely event that there is an emergency that causes the fire alarm to sound, to ensure your safety, please follow these simple rules:
If safe to do so, leave the building by the nearest and safest exit.

Put on shoes, a warm jacket and a mask. 
Once outside, please meet in the following meeting spaces.
For Linden Hall: the parking lot located beside the residence building. Once outside, a CIC Staff Member will direct you as needed to ensure your safety.
Remember, when outside, continue to practice proper social distancing at all times.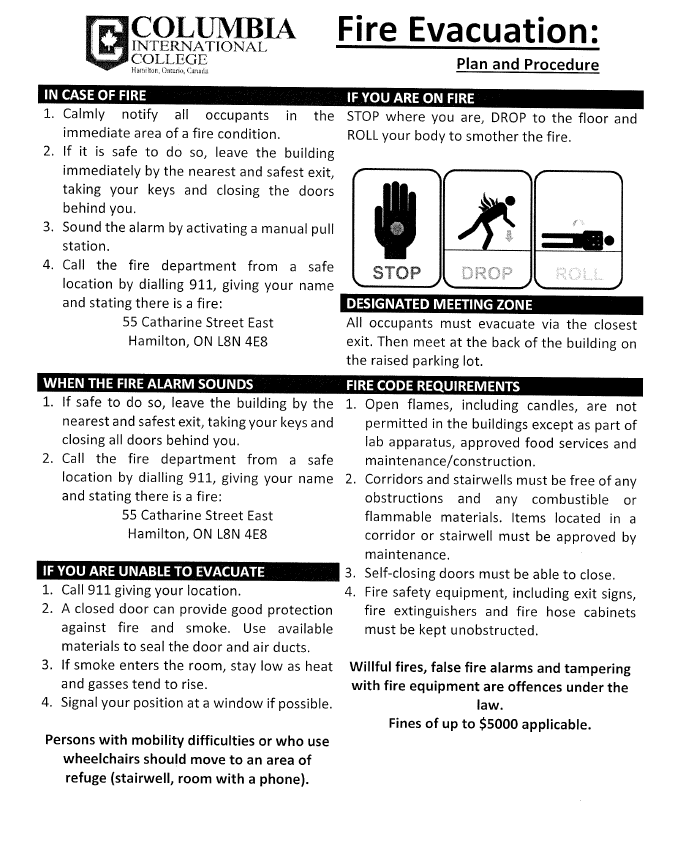 ---
Room Comfort
Managing room temperature
You can control the temperature of your room! To make changes, push down the side of the lid on top of the heating unit. You can turn the heat or cooling on and off and change to the preferred temperature. We recommend temperatures between 21 to 25 degrees Celsius. 
There are hygienic items sold at the Residence such as shampoo, body wash, toothpaste, toothbrush, deodorant, etc. If you need to purchase any of these items, call the Front Desk. Please note that the items are based on availability and may not be available at all times. 
There are garbage cans with 2 garbage bags in each. Please make sure to throw out all garbage and uneaten food from the meals/snacks. If you did not drink the beverage(s) please drain down the bathroom sink before throwing out the container. Garbage is removed from the corridors multiple times a day, so please make sure to leave your garbage outside the door. New garbage bags will be delivered for your use.
---
Food Delivery during Self-Isolation
The following items will be provided to all students serving their self-isolation period at CIC:
Meals will be brought to your door and left on a table just like room service!

To minimize risk, your meals will be brought to you in disposable plastic/paper containers with disposable eating utensils

Brunch, afternoon light snack, dinner, and evening snack, will be delivered to you by residence staff. Breakfast will be delivered to you on school days. For a more detailed timeline, please see the meal schedule enclosed.

All meals are placed on the table outside of your door. Once the meal has been delivered the staff will knock on the door to let you know.

Once you are done with your meals, put all containers and garbage in the garbage can placed outside your door. Leave the empty tray on the table for staff to collect.

Let us know your dietary restrictions and preferences. If you need extra food, condiments, etc., please call the Front Desk.

You can order takeout! If you place an order, please call Front Desk and let us know it has arrived and we can assist you with the delivery.
If you are hungry in-between the meals, call the Residence staff. We have some snacks available.
Tips! Tap Water in Hamilton is safe to drink.
---
Chartwells is the name of the company that will prepare your meals for the duration of your stay at CIC.
Chartwells Meal Schedule
MONDAY – FRIDAY
Breakfast: 7:00am – 8:30am
Lunch: 12:00pm – 1:00pm
Late afternoon snacks: 3:00pm – 4:00pm
Dinner: 5:00pm – 6:30pm
SATURDAY – SUNDAY and Non-School Days
Brunch: 11:00am – 12:45pm
Late afternoon snacks: 3:00pm – 4:00pm
Dinner: 5:00pm – 6:30pm
Late night snacks: 8:00pm – 8:45pm
---
Information to Stay Healthy and Safe:
Monitor yourself for symptoms of illness for 5 days. Symptoms of concern include: cough, fever, difficulty breathing.

Keep your hands clean.

Wash your hands often with soap and water for at least 20 seconds and dry with disposable paper towels or dry reusable towels, replacing it when it becomes wet.

Use an alcohol-based hand sanitizer.

Cover your cough and sneeze into your upper sleeve or elbow, not your hand.
In the case of a period of self-isolation, it's important to look after both your physical and mental health:
Ensure you have entertainment items on hand such as books, crafts, art materials, playing cards etc.

Take advantage of communication apps and keep in touch with friends and family – there are many to choose from that offer different services depending on your needs.  

If you are able to, do some work to keep your mind active. You could also consider studying and learning something new or playing an online game.

Don't forget to keep your body moving – do yoga, online fitness lessons, etc. Many apps are available for fitness instruction, as well as free content on websites such as YouTube.

Lastly, stay hydrated and keep regular sleeping patterns.
---
Housekeeping Services during Self-Isolation:
Please note that during the 7 days of self-isolation regular housekeeping services will not be provided. This will be to minimize risk to both staff and students including you! Once you have completed your self-isolation period, complete thorough environmental cleaning on hard surfaces with an approved disinfectant should be completed.
---
Last updated on November 28, 2022